GDVD-012
Second Impact Box #3
Episodes 25-26, Death and Rebirth, The End of Evangelion, and "Girlfriend of Steel" PC Game.
Packaging: 4x CD-sized jewel cases (without obi strips) in outer cardboard box w/ obi strip.
Disc format:  Single-sided, dual-layer (x3), Windows DVD-ROM (x1). Region 2.
Notes: Contains GDVD-007-2, GDVD-008, GDVD-009 and Girlfriend of Steel PC-Game. 
<![if !supportEmptyParas]> <![endif]>
GDVD-007-2
Episodes 25-26
Video: 4:3 interlaced
Audio: DD 2.0 @ 192 kbps
Bonus features:  Program notes, sketches, and scripts. 
Note:  Unlike the Volume 7 single-disc release that preceded it, this disc does not have the "Genesis Versions" of Episode 25': Air or Episode 26': Magokoro wo Kimi ni.
<![if !supportEmptyParas]> <![endif]>
Outer box:
<![if !supportEmptyParas]> <![endif]>
<![if !vml]>
<![endif]>
<![if !supportEmptyParas]> <![endif]>
Covers for Volume 7, Death and Rebirth, and The End of Evangelion (uses alternate art)
<![if !supportEmptyParas]> <![endif]>
<![if !vml]>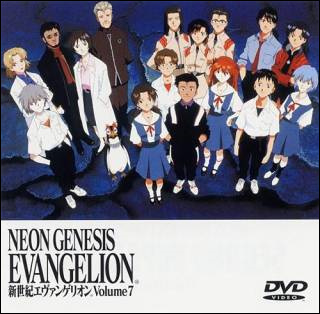 <![endif]> <![if !vml]>
<![endif]> <![if !vml]>
<![endif]>
<![if !supportEmptyParas]> <![endif]>