KIBA-105~6 / GDVD-008~9
Theatrical Edition
Death and Rebirth + The End of Evangelion
Packaging: Non-standard custom 2-DVD jewel case w/ obi strip and booklet.  First pressing included limited edition phone card and two Cardass Masters picture cards.
Disc format:  Single-sided, dual-layer (x2). Region 2.
Video: 1.85:1 non-anamorphic progressive scan
Audio: DD 2.0 @ 192 kbps
D+R bonus features:  Two trailers ("Ode to Joy" and "Dies Irae"), four 15-sec TV-spots.
EoE bonus features:  One trailer (live-action), one 15-sec TV-spot (EoE logo with waves background audio).
Notes: Death(True)˛ is the version of "Death" used in this release.  This is the only DVD with the original footage of "Rebirth" available in any region.
<![if !supportEmptyParas]> <![endif]>
<![if !vml]>
<![endif]> <![if !vml]>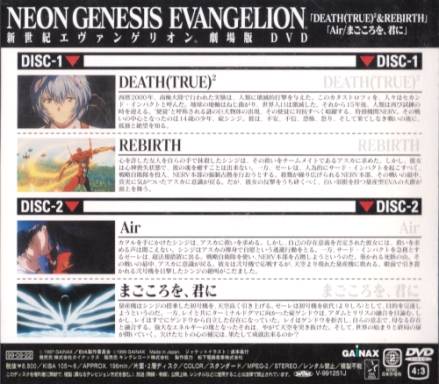 <![endif]>
<![if !supportEmptyParas]> <![endif]>
Case with obi strip (King Records printing)
<![if !supportEmptyParas]> <![endif]>
<![if !vml]>
<![endif]> <![if !vml]>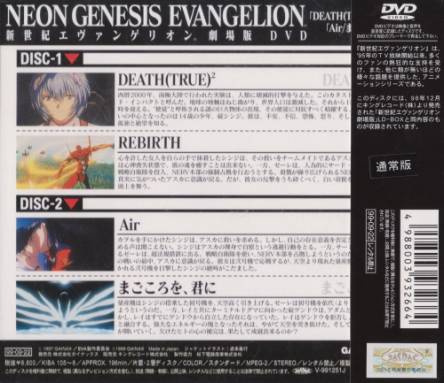 <![endif]>
<![if !supportEmptyParas]> <![endif]>