KIBA-7 / GDVD-007
Volume 7
Episodes 25-26, 25'-26' (Air + Magokro wo, kimi ni)
Packaging: CD-sized jewel case w/ obi strip.
Disc format:  Single-sided, dual-layer. Region 2.
Video (25-26):  4:3 interlaced
Video (25'-26'): 1.85:1 non-anamorphic progressive scan (except both episodes' respective end credits and the 30-sec next-episode preview at the end of 25', which are interlaced).
Audio: DD 2.0 @ 192 kbps
Bonus features:  Program notes, sketches, and scripts.
Note: Episodes 25' (Air) and 26' (Magokoro wo Kimi ni) are known as the "Genesis versions" due to the changes made to them when placed on the Genesis 0:13 – 0:14 VHS/LD releases.
<![if !supportEmptyParas]> <![endif]>
<![if !vml]>
<![endif]> <![if !vml]>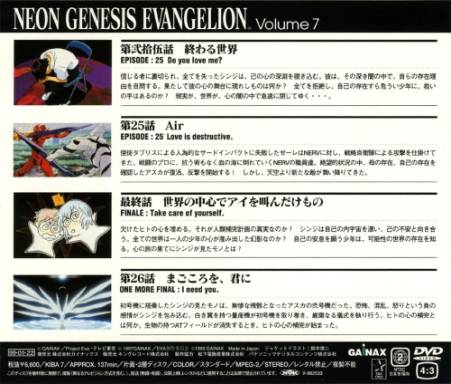 <![endif]>
<![if !supportEmptyParas]> <![endif]>
Case with obi strip (Gainax printing)
<![if !supportEmptyParas]> <![endif]>
<![if !vml]>
<![endif]> <![if !vml]>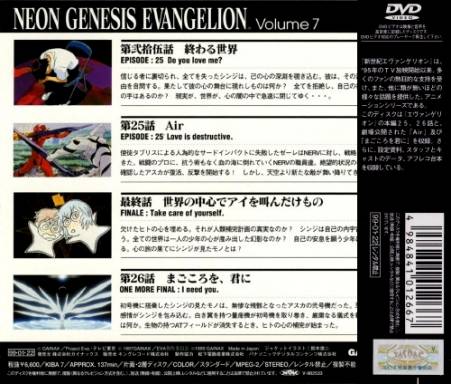 <![endif]>   
<![if !supportEmptyParas]> <![endif]>