Collection 0:1 (Remastered)
Episodes 1-4
Packaging: Amaray case w/ chapter insert
Disc format: Single-sided, dual-layer. Region 1.
Video: 4:3 interlaced
Audio: DD 2.0 @ 224 kbps (JP/EN/FR/SP)
Bonus Features: Character bios, Clean OP/ED (easter egg, press UP while "Character Bios" is highlighted on the Extras menu, then press OK/select button.)
Notes: This is the remastered DVD found in later pressings of the single-disc release and the "Perfect Collection" box.  No full-screen overlays for in-program Japanese text, uses hardsubs instead (except for replacing only full-screen Japanese text on a blank background with translated English text on a blank background, just like other 7 original TV volumes.) Cover art is different (Evangelion logo at bottom of front cover instead of the top, spine design differences, and the back cover design matches Collection 0:3 – 0:8). Uses 30-sec next-episode previews. Mastered by MOFC.
<![if !supportEmptyParas]> <![endif]>
<![if !vml]>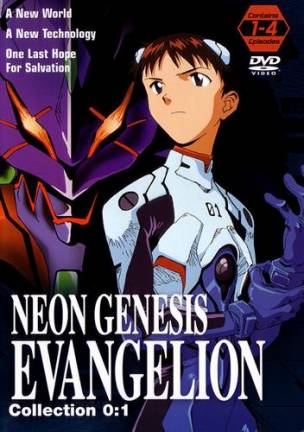 <![endif]> <![if !vml]>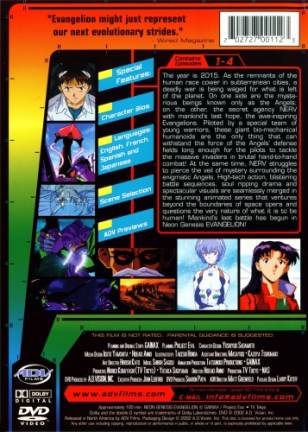 <![endif]>
<![if !supportEmptyParas]> <![endif]>