Collection 0:2
Episodes 5-8
Packaging: Amaray case w/ chapter insert
Disc format: Single-sided, single-layer. Region 1.
Video: 4:3 interlaced
Audio: DD 2.0 @ 192 kbps (JP/EN/FR/SP)
Bonus Features: Character bios
Notes: Uses 30-sec next-episode previews. Mastered by Cinram / POP DVD Center. There are two cover variants (original retail and "Perfect Collecton" versions.)  Differences include spine alignment and format of the back side (retail matches original Collection 0:1, Pefect Collection version matches 0:3 – 0:8).  The front was also changed to be "less busy" as well (note the lack of Japanese text on the right side).
<![if !supportEmptyParas]> <![endif]>
Original retail version:
<![if !supportEmptyParas]> <![endif]>
<![if !vml]>
<![endif]> <![if !vml]>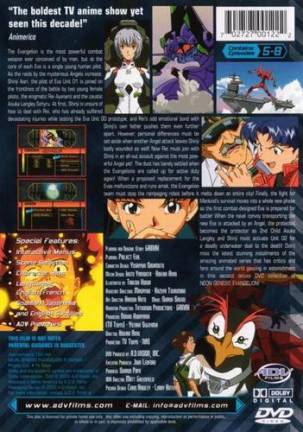 <![endif]>
<![if !supportEmptyParas]> <![endif]>
Perfect Collection version:
<![if !supportEmptyParas]> <![endif]>
<![if !vml]>
<![endif]> <![if !vml]>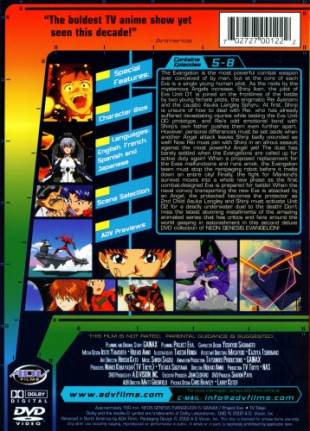 <![endif]>
<![if !supportEmptyParas]> <![endif]>