Director's Cut: Resurrection
Episodes 21-23, 21'-23'
Packaging: Amaray case w/ chapter insert
Disc format: Single-sided, dual-layer. Region 1.
Video: 4:3 interlaced
Audio: DD 2.0 @ 224 kbps (JP/EN)
Bonus Features: Clean OP/ED, interview with WETA designers for live-action Evangelion film
Notes: Includes both "NPC" (aka Director's Cut) and Japanese broadcast versions of Episodes 21-23.  Japanese broadcast versions have graphic text overlays like the original Volume 1 DVD.  "Director's Cut" versions use softsubs for all text, like the later Platinum DVD releases.  Broadcast next-episode previews of 22-24 are 15-sec, NPC previews are 30-sec for 22'-24'.  Episodes 21'-23' had English dub redone.  Mastered by MOFC.
<![if !supportEmptyParas]> <![endif]>
<![if !vml]>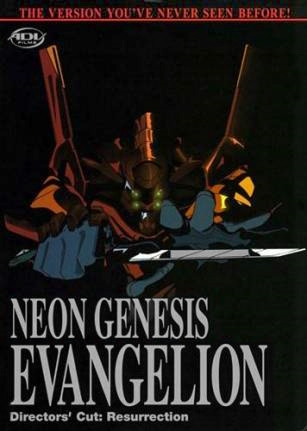 <![endif]> <![if !vml]>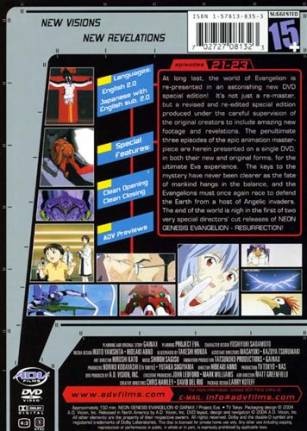 <![endif]>
<![if !supportEmptyParas]> <![endif]>