Platinum: 01
Episodes 1-5
Packaging: Amaray case w/ slipcover and booklet adapted from JP Renewal singles. First press included a NERV parking decal.
Disc format: Single-sided, dual-layer. Region 1.
Video: 4:3 interlaced
Audio: Japanese DD 5.1 @ 448 kbps, English DD 5.1 @ 448 kbps.
Bonus features: Clean OP/ED, English cast commentaries for Episodes 1-2.
Note: Uses 15-sec next-episode previews like JP Renewal discs.  Early pressings had missing lines in the English dub of Episode 3.
<![if !supportEmptyParas]> <![endif]>
<![if !vml]>
<![endif]> <![if !vml]>
<![endif]> <![if !vml]>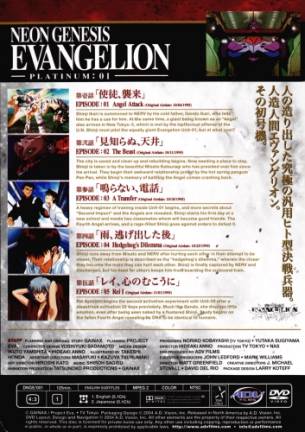 <![endif]> 
<![if !supportEmptyParas]> <![endif]>